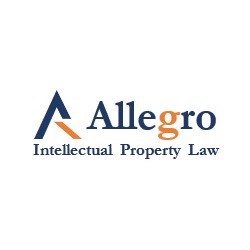 Allegro IP Law Firm (hereinafter collectively referred to as the "Allegro IP") operates the https://allegropat.com/ website and shall comply with the Act on the Protection of Personal Information and other related laws and regulations, regarding the personal data it possesses, and shall handle such information appropriately in accordance with the Allegro IP's policy set forth below.
This page is used to inform website visitors regarding our policies with the collection, use, and disclosure of Personal Information if anyone decided to use our Service.
Purpose of Using Personal Data
If you choose to use our Service, then we assume that you agree to the collection and use of information in relation with this policy. The Allegro IP may ask you to provide, directly through this website, personal data such as your name, postal address, phone number and e-mail address, while also obtaining personal data in various situations. In such cases, the Personal Information that we collect are used for providing and improving the Service. We will not use or share your information with anyone except as described in this Privacy Policy without the consent of individuals unless required by laws or regulations, or unless we have separately given notification or made a public announcement regarding such other purposes of use.
Management of Personal Data
The Allegro IP manages personal data, within the scope necessary for the achievement of the purpose of use, taking care such that illegal access, loss, destruction, manipulation or leakage do not occur; implementing necessary and appropriate measures, in accordance with the Allegro IP's rules and regulations concerning the protection of personal data. In addition, at the Allegro IP, we supervise our employees appropriately regarding the handling of personal data; and in the case of an entrustment of the handling of personal data to any third party, we will supervise the entrustee so that they will manage the personal data appropriately. At the Allegro IP, unless we have our client's consent, we will not provide, other than when required by laws and regulations, any personal data to any third party.
We want to inform you that whenever you visit our Service, we collect information that your browser sends to us that is called Log Data. This Log Data may include information such as your computer's Internet Protocol ("IP") address, browser version, pages of our Service that you visit, the time and date of your visit, the time spent on those pages, and other statistics.
Cookies are files with small amount of data that is commonly used an anonymous unique identifier. These are sent to your browser from the website that you visit and are stored on your computer's hard drive.
Our website uses these "cookies" to collection information and to improve our Service. You have the option to either accept or refuse these cookies, and know when a cookie is being sent to your computer. If you choose to refuse our cookies, you may not be able to use some portions of our Service.
We may employ third-party companies and individuals due to the following reasons:
To facilitate our Service;
To provide the Service on our behalf;
To perform Service-related services; or
To assist us in analyzing how our Service is used.
We want to inform our Service users that these third parties have access to your Personal Information. The reason is to perform the tasks assigned to them on our behalf. However, they are obligated not to disclose or use the information for any other purpose
We value your trust in providing us your Personal Information, thus we are striving to use commercially acceptable means of protecting it. But please understand that no method of transmission over the internet, or method of electronic storage is 100% secure and reliable, and we cannot guarantee its absolute security.
Our Service may contain links to other sites. If you click on a third-party link, you will be directed to that site. Please note that these external sites are not operated by us. Therefore, we believe it advise you to review the Privacy Policy of these websites. We have no control over, and assume no responsibility for the content, privacy policies, or practices of any third-party sites or services.
If you have any questions or suggestions regarding our Privacy Policy, please do not hesitate to contact us with the below contact information.
E-mail: info@allegropat.com